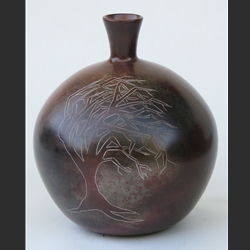 Creating masterful one-of-a-kind pieces of pottery, Lyse Fleury has practised and refined her own version of the ancient technique of smoke firing, or primitive firing, for over four decades.

The Urn is a smoke fired work featuring fantasy birds which she etched on the surface of the urn before the bisque firing. (Read about her technique in "Primitive or Smoke Firing", in Lyse Fleury in Get to Know the Artist - http://www.loondance.ca/m-4-lyse-fleury.aspx.)

The Round Plate with Windblown Trees is a smoke fired decorative plate on the surface of which she has etched her latest original design, featuring the Windblown Tree.