Works of Inuit Art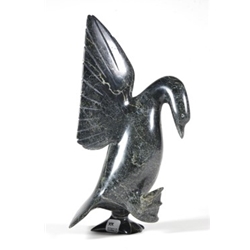 Works of Inuit Art

As a dynamic online art gallery, we represent several master carvers and great graphic artists, as well as many leading artists mainly from Cape Dorset, Nunavut. Several artists hail from other centers in the Far North which produce Eskimo art prints: Pangnirtung, Baker Lake and Holman.

Sculptures by Inuit artists are accompanied by the Igloo Tag or Eskimo Tag, the famous certificate of authenticity. The master carvers whose sculptures head our online inventory include Etidloie Adla and Quaraq Nungusiotok, currently considered to be the foremost sculptors on the subject of the polar bear. The extremely talented Toonoo Sharky's works and some major pieces by Pudlalik Shaa, Palaya Qiatsuq, Ningeosiak Ashoona and Joanasie Ragee highlight our strong and diversified Inuit sculptures collection.

Original Inuit prints are signed by the artist, bear the printer's chop mark and show the edition number. We showcase the works of Kananginak Pootoogook, Pitseolak and Shuvinai Ashoona, Tim Pitsiulak and Victoria Mamnguqsualuk Kayuryuk, among other print artists.

Original drawings made in the Cape Dorset print shop are valuable works of art, for they take us into the inner world of the Inuit artists who are the authors of original prints. One-of-a-kind drawings reveal innumerable, fascinating perspectives on the relationship of the Inuit mind to this people's demanding way of life. Each drawing is signed by the artist.